I've been waiting to post this one.
I'm sure many of you have already played Seiklus (pronounced 'sāke loose').  If you haven't, you absolutely should.  While Seiklus doesn't seem to be all that entertaining from the screenshots, it reveals incredible creativity and depth once you jump in.
The premise of the game is simple, if strange.  It begins with two amorphous characters, a male and female couple, are standing on a cliff above the clouds watching a meteor shower.  By chance, a single meteorite strikes the cliff, knocking the male character off into the depths.  The entire game follows you playing as this character trying to make his way back to his lover above the clouds.  Silly, but a wonderful experience.
The game world is divided up into a variety of clearly defined regions.  You'll go from a surreal grassy area, to silent snowy lands, and into the belly of a sea beast, to name a few.  The graphics are colorful, and while simple, this adds to the appeal of the game.   No other control input besides the keyboard is supported, but because of the simplicity of the game's controls, this isn't an issue.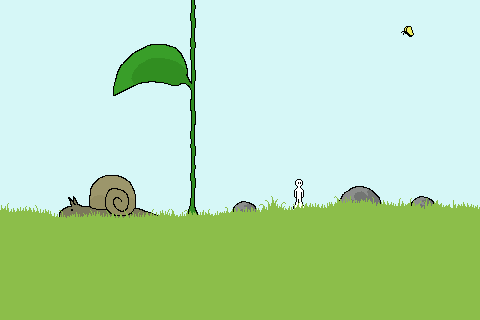 In large part, the music in Seiklus is incredible.  Even though it was all added in as an afterthought by the developer, the music sets the tone of the game perfectly, no matter which area you're in.  The game simply must be played with audio enabled.  There is no dialogue, and few sound effects to speak of, but they're simply not needed.
Seiklus is available as freeware as hosted by the developer here, so you have absolutely no excuse for not playing it.  It's an absolutely beautiful experience, and one of my personal favorites.